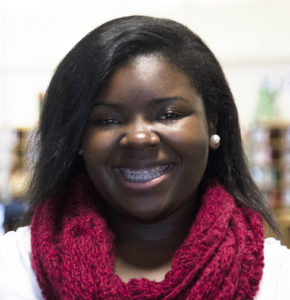 When Kemani Mullins was thirteen she experienced her cousin trying to raise four young children with no experience or guidance on how to care for them. Witnessing these children living in hostile and unsafe conditions was extremely troubling. Kemani feared what the children were going through.
In 2014, Kemani, a freshman at Millbrook High School in Raleigh, NC, had the opportunity to listen to guest instructors from Educate Tomorrow's Parents (ETP) when they visited her Healthful Living class. Over the span of a couple days, the students were presented with information about children's needs and how to create strong families. The program allowed Kemani to reflect on her childhood, her life priorities before she has a family, and how she would like to raise her future children. She engaged in activities to plan how to care for a child, including finances, health, life management, and ways to handle real life obstacles.
Kemani thought back to her cousin and a spark was lit inside her. She knew that someday she wanted to be able to provide her own children with the well-being they deserve. That passion has continued to flourish and has allowed Kemani to help educate others in the community by volunteering with Educate Tomorrow's Parents. It was more than just learning what to do when she has a future family.
"ETP has given me the opportunity to have a voice and reach out to inform others about the seriousness of child safety," says Kemani. She has worked hard in school and also volunteers at Rex Hospital Child Development Center. Now a senior in high school, Kemani is applying to college with her sights set on becoming a pediatrician. Thanks to Educate Tomorrow's Parents, Kemani not only looks forward to one day becoming a parent when she is ready, but also having a career where she can help protect the health and safety of many children.
With your generous involvement, many teens like Kemani are receiving guidance and making decisions today that will shape their lives and generations to come.
– by Natalie Green